A photo of a large house along with the caption that it is the home of Nancy Pelosi is spreading across social media. The house in the photo is surrounded by a large wall.
The image has circulated across sites like Facebook to the backdrop of an on-going battle between Nancy Pelosi and democrats against republicans about the rights of undocumented migrants and workers in the United States.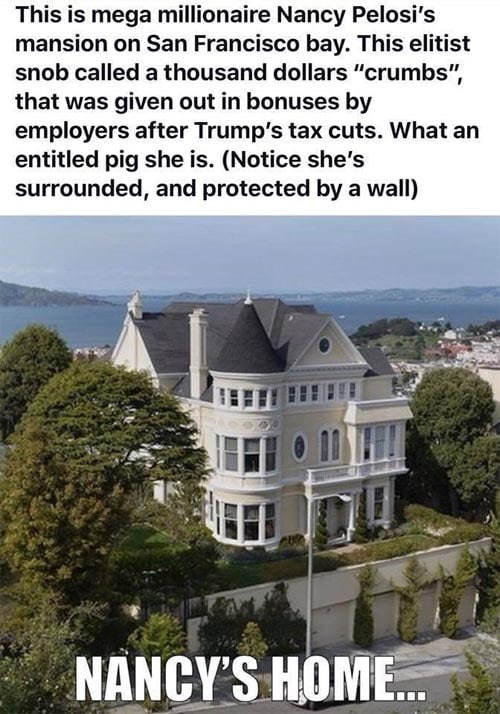 FYI: Nancy Pelosi's home….. notice the wall!
This is the mega millionaire Nancy Pelosi's mansion on San Francisco bay. This elitist snob called a thousand dollars "crumbs", that was given out in bonuses by employers after Trump's tax cuts. What an entitled pig she is. (Notice she's surrounded, and protected by a wall)
However the photo isn't accurate. The house does not belong to – nor ever has belonged to – Nancy Pelosi.
In reality the house was the former abode of former Pacific Stock Exchange chairman Doug Engmann at 2724 Pacific, who sold it in March 2015 to an unknown buyer for around $25 million. There is nothing to suggest that that buy was Nancy Pelosi. The house was the most expensive house in San Francisco in 2013.