We discuss Facebook like-farming, what it is, what forms it can take, why you should never engage with like-farming posts and how to make sure you never fall for them.
Facebook like-farming describes the processes Facebook spammers use to accumulate as many followers (reach) on Facebook as possible using manipulation, exploitation and deception. This reach can then subsequently be used by the spammers to make money or launch online scams. Often like-farming is used by those craving the social media limelight with no real "end game".
The processes like-farmers use to accumulate these followers can vary depending on what version of it you come across. Most popularly, like-farmers will create Facebook pages that will consistently publish exploitative or deceptive posts designed to go viral by encouraging Facebook users to engage with (e.g. like, share, comment on) them.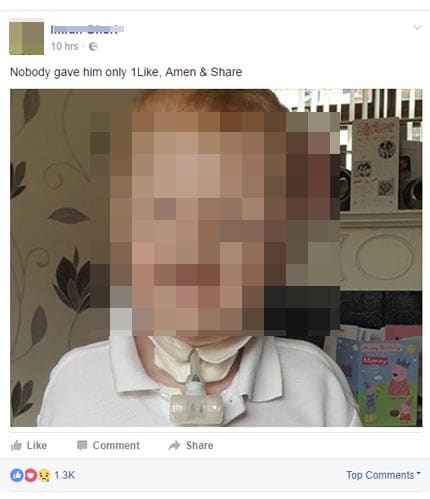 Posts that implore you to like, share and comment are most likely a form of like-farming.
Below we examine the most popular types of like-farming Facebook posts that spread across the social networking site.
Emotional exploitation
These posts will typically say anything from the below examples…
People are ashamed of her disability…
No one wished this little girl a happy birthday…
Type Amen if you hate cancer.
1 share = 1 prayer for this sick child.
Don't scroll if you have a heart.
Like if you think she's beautiful
Posts that use emotional exploitation to lure Facebook users into engaging with a post is perhaps the most cruel yet prolific type of like-farming. These posts will not only exploit Facebook users into engaging with them by pulling at the emotional heart strings, but they also exploit the people typically depicting in these posts since their photos are stolen from the Internet and used without permission.
The pleas to interact with the posts (type amen… share if you hate… etc.) are actually self-serving. The scammer doesn't care about the subject matter. They're just looking for social media engagement.
 
Like and share to win… (fake competitions)

Like and follow us to win a free Range Rover…
We're giving away 5 tickets to Disney World for those that like and share…
Win free tickets for South West Airlines, just like and share this post….
We have 20 unsealed Playstations…

Facebook posts asking you to follow page, and share a post on your timeline are probably fake, and just luring Facebook users into engaging with a Facebook post. Read our article here for more details on spotting fake Facebook competitions.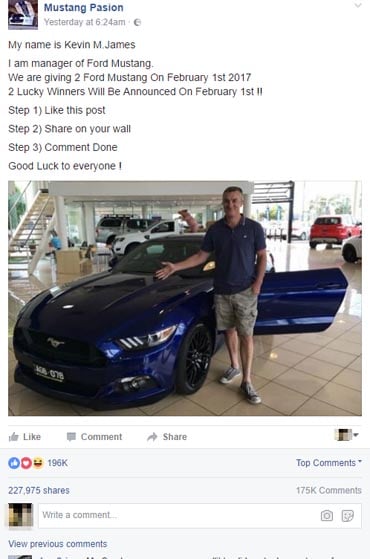 Posts that ask you to share a post to win a prize are probably like-farming posts.
Fake charity donations
Facebook donates $1 per share
The claim that Facebook (or anyone) will donate money to help a sick child based on how many likes or shares a Facebook post gets is as deceitful as it is illogical. Again these schemes use photos without permission. No one donates money to anyone based on likes or shares.
Continued below...
SPONSORED AD
 
The wager
Mark Zuckerberg has said that if this post gets over 50k comments then…
Posts that claim the author has made a wager that he can accumulate a certain amount of post engagement is a popular way of tricking people into interacting with a post. This example will usually assert to promote some kind of positive outcome if the wager can be met, providing motivation for people to interact with the post.
See what happens
Comment "blue" and hit like and see what happens to the image
Posts that assert something "will happen" after you engage with them is just a trick designed to lure you into… you guessed it, engaging with the post!
Facebook are removing this photo?
Facebook are trying to remove this photo. Share if you disagree
This "call-to-arms" falsely purports that Facebook are actively trying to remove or censor a photo from appearing on their site, and implores users to share the photo, which of course subsequently leads to it going viral across the site.
If Facebook don't want a photo on their website, it won't be on their website. In fact they can pre-emptively prevent you uploading it.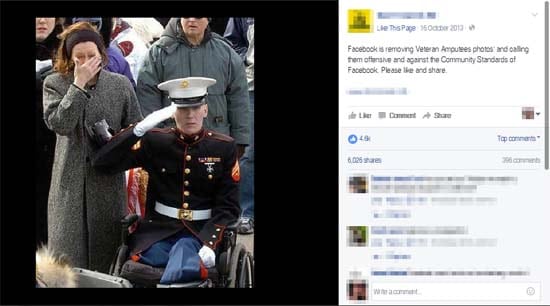 Posts claiming Facebook are removing a photo are probably lying to you.
Superstition
7 years of bad luck if you don't share this post
Magic isn't real.
Affinity like-farming
Share if you're a proud child of God
Affinity like-farming can be particularly powerful since it targets groups or communities that tend to possess a strong connection between members. This variation is designed to create empathy through a common, shared connection, despite the spammers ultimately only caring whether you engage with their posts.
"Impossible" Quizzes
Solving a Maths equation that requires only a simple understanding of the BODMAS principle doesn't make you a genius. It isn't an "impossible" Maths quiz, rather an equation that you should be able to solve as a middle school student. The same applies to inane questions like "I bet you can't name a dogs name without the letter A in in" – equally as easy.
How does like-farming make spammers money?
While some who engage in life-farming simply have a yearning for the social media spotlight (i.e. they just want lots of followers) many people who engage in like-farming techniques do so to make money, and they're willing to exploit and manipulate you in order to do it.
So now we've seen the variations like-farming can take, how does it make spammers money? Again this can vary depending on what sort of posts you stumble on.
For example, fake competition like-farming scams [that purport to be giving away free coupons, tickets, cars etc.] will most likely be attempting to lure you towards spammy marketing webpages that are designed to harvest your personal information that are then disseminated to various third party marketing companies. This is why this type of like-farming often includes a link to "claim your prize" (or may be edited later to include such a link.)
The people behind these posts are given commissions for everyone they trick into giving away their personal information.
However, like-farming can be even more sinister. Facebook pages that accumulate lots of followers can essentially post links to any kind of online scam. In the past we've seen such pages post links to spoof phishing websites, websites that are associated with identity theft, or sites that attempt to install malware.
When a Facebook page has accumulated so many followers via like-farming content, its future posts will inevitably appear on lots of newsfeeds belonging to its followers. This means the page can attempt to direct its followers to any number of online scams, which are all designed to put money into the scammer's pocket.
Continued below...
SPONSORED AD
Avoiding Like-farming posts
Making sure you don't interact with like-farming posts and pages is important. The most successful like-farming is, the more people will do it.
Educating yourself about the different examples of like-farming by reading posts like this goes a long way to being able to spot them.
Before engaging with a post, you first need to determine if you're being exploited or deceived. Evaluate the page that made the post and ask if it seems overly concerned with attracting new followers and encouraging visitors to engage with their posts without actually posting anything of substance. If that is the case, you're more than likely looking at a like-farming page.
For more information about like-farming, we recommend reading the below articles too –
Related articles –
3 ways to identify a like farming page.
5 Facebook posts you SHOULD NOT be sharing.
A case study – Jordan Embry – how a Like Farming Page works.
Repost if you have a heart. Emotional exploitation on Facebook.
Originally published on November 2012. Updated February 2017.