A series of fake celebrity giveaway scams are spreading online that claim various well known personalities are handing out cash to people who correctly "guess" a number in a video.

SCAM
Fake celebrity giveaway scams are popular on social media, and rely on a victim believing that a particular celebrity is handing out large amounts of money to social media users for completing relatively easy and benign tasks.
However, such giveaways are not real, and almost all of them are designed to lure social media users to the darker, more sinister corners of the Internet.
In this latest spate of scams, crooks are creating Facebook pages using celebrity names and publishing videos featuring a recording of that celebrity talking into the camera, next to an image of a slightly obscured number (e.g. 571.) The caption of the video will ask social media users to guess the number in the picture to win a large amount of money. See the posts below as an example.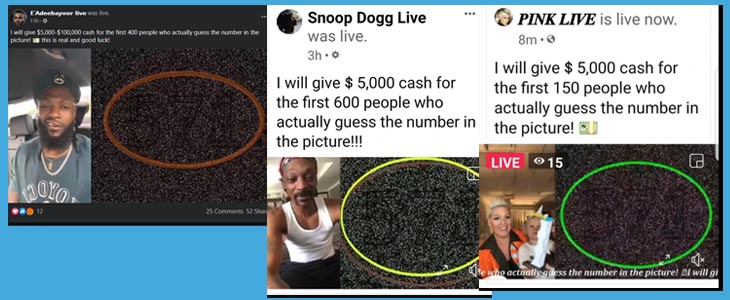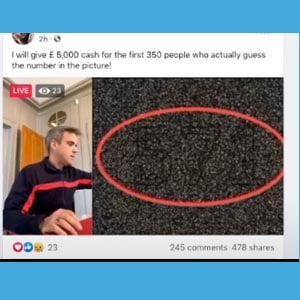 I will give $ 5000 cash for the first 600 people who actually guess the number in the picture!!!
Such posts above have used videos of rapper Snoop Dogg, footballer Emmanuel Adebayor and singers Robbie Williams and Pink, among others.
But this has nothing to do with these celebrities. The Facebook pages that posted the videos are fake, and the videos themselves have simply been lifted from that celebrity's real social media channel and put onto a loop. You'll notice that the celebrity isn't directly mentioning the alleged "guess the number" giveaway in their video.
Sponsored Content. Continued below...
So what's the point in these fake videos then?
To get you to visit spammy websites. Facebook users that do try and comment on these posts to try and win the cash are automatically sent a direct message asking them to share the video, thus spreading it across Facebook, and to visit a suspicious video streaming website and sign up for an account using their credit card information. They must complete these steps, users are told, to get their big cash prize.
That's not advised, especially considering the streaming sites we were sent to, including a site called Fuegofun, have a reputation for making unexpected and unauthorised charges to credit cards.
And the big cash prize on offer for guessing the number? You will have probably have realised by now that it doesn't exist.
While social media is flush with apparent cases of charitable celebs handing out cash to strangers, the reality is these are all just scams. If you do consider entering a giveaway or promotion, look for the blue ticks and checkmarks that accompany an official brand or individual's social media account so you know you're not dealing with an imposter account.