A warning posted on social media purports to come from a parent whose child witnessed a video of Peppa Pig stabbing herself and other characters.

TRUE
The warning, posted on Facebook, reads –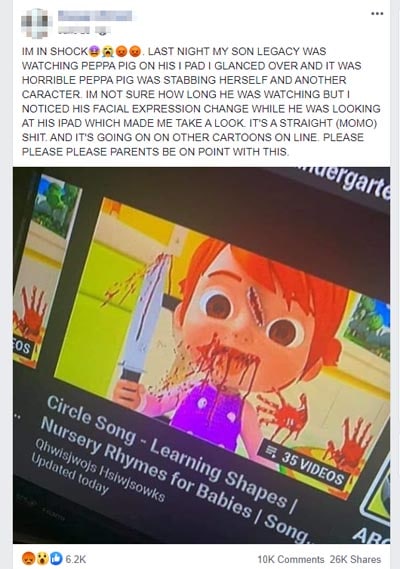 IM IN SHOCK😖😭😡😡. LAST NIGHT MY SON LEGACY WAS WATCHING PEPPA PIG ON HIS I PAD I GLANCED OVER AND IT WAS HORRIBLE PEPPA PIG WAS STABBING HERSELF AND ANOTHER CARACTER. IM NOT SURE HOW LONG HE WAS WATCHING BUT I NOTICED HIS FACIAL EXPRESSION CHANGE WHILE HE WAS LOOKING AT HIS IPAD WHICH MADE ME TAKE A LOOK. IT'S A STRAIGHT (MOMO) SHIT. AND IT'S GOING ON ON OTHER CARTOONS ON LINE. PLEASE PLEASE PLEASE PARENTS BE ON POINT WITH THIS.
While the message above omits one piece of pertinent information – the platform on which the alleged video appeared – it is a genuine warning. At least in the context that after brief research, we were able to track down the same video ourselves (well, at least the thumbnail of the video, since the video itself has since been removed.)
If you're wondering, the video pictured appeared on YouTube, meaning it's likely the child in question was using the YouTube app on an iPad. While the videos in question – as far as we can ascertain – have been removed, we were able to track down a number of playlists on the YouTube platform that still displayed the above thumbnail.
Sponsored Content. Continued below...
The reference in the message to "momo" refers to a 2019 phenomenon when online users were pranking or trolling other users by claiming a character (that turned out to be a photo of a Japanese sculpture) was "haunting" the Internet and setting dangerous challenges using online children's videos. While a small number of inappropriate videos were ultimately uploaded to video websites (and subsequently removed) most of the furore over "momo" and the claims associated with the character proved to be either exaggerated or fictional (for example, the claim "momo" was a real entity, or that she could "hack" video games or smart phones.)
The message highlights the ever present dangers of leaving children unsupervised while using video platforms such as YouTube. Such sites – where anyone with an account can upload anything they want – will always prove themselves to be a conduit for inappropriate content, which is why we always recommend never leaving children alone while using such unregulated websites.
Sponsored Content. Continued below...
Here are some simple tips to help keep your kids safe when using devices such as tablets or smartphones to watch videos online.
– Try and regulate the amount of time spent watching videos, and don't let your child go to bed with a device that can access the Internet.
– If using sites like YouTube or YouTube for Kids, always make sure your child is supervised at all times, since content that is inappropriate for children can always be only one click away.
– Alternatively, there are some great video websites out there specifically for children that are much safer than platforms such as YouTube. Here are 8 such websites.
– Learn about the parental controls available for any website your child wants to visit.
– Encourage open dialogue so children can to come to you if they see anything that scares them or that they are uncomfortable with.