Claims on social media assert that you can win a holiday to Centre Parcs for engaging with a post, such as liking or commenting. Many such posts also require users click a link that direct to external websites to claim their holiday.

SCAM
Such posts are scams designed at luring social media users to spammy marketing websites known for harvesting personal information in order to spam visitors. Such schemes are popular on Facebook, where the scam is referred to as Facebook like-farming (soliciting post engagement using deception, manipulation or exploitation.)
Some examples of these scams are below.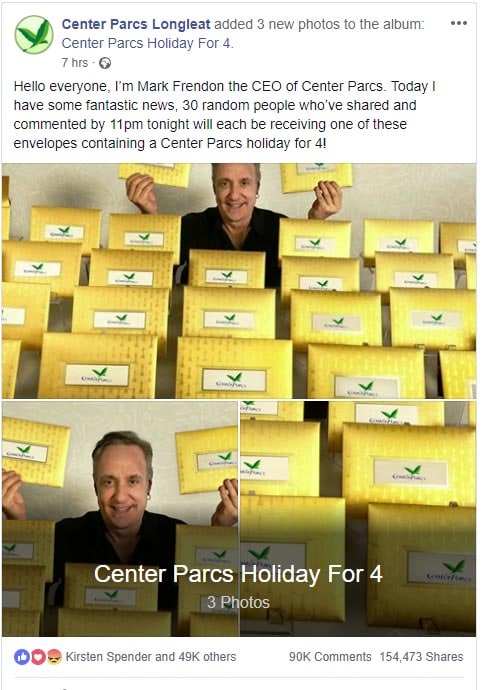 This March – We're giving you the chance to get a Center Parcs holiday for 6. To participate:
Share
Comment: "WIN"
Click the blue Sign Up button on our page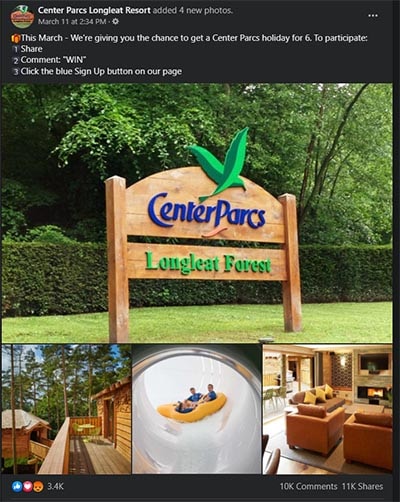 Hello everyone, I'm Mark Frendon the CEO of Center Parcs. Today I have some fantastic news, 30 random people who've shared and commented by 11pm tonight will each be receiving one of these envelopes containing a Center Parcs holiday for 4!
Scammers on social media often use Center Parc locations as bait to lure victims into engaging with social media posts, especially on Facebook.
Sponsored Content. Continued below...
Such scams typically work, more or less, as follows –
– The crooks create a fake social media page with the Center Parcs branding. That page then publishes posts claiming social media users can win a free holiday at a Center Parcs location.
– In order to win that holiday, the page claims that users need to engage with the post, often by liking, sharing or commenting on it.
– The page then asks users to click a link or button that directs to third party marketing websites.
– Those websites try and lure visitors into signing up for various offers, programs or subscriptions, often by falsely claiming that once they do, they will win a prize.
– The visitor follows the instructions, and by doing so, parts with their contact information, leading to unsolicited calls, texts, posts, SMS messages and email.
– By the time the visitor realises that the prize offered on the original social media post doesn't exist, it's too late, and their contact information is in the hands of spammers. Often they've also enrolled in hard-to-cancel subscriptions.
Don't fall for these scams. Social media posts from unverified Facebook pages offering expensive prizes and luring you towards third party marketing websites are scams, and you're not going to win the prizes promoted in these posts, because they don't exist.
Remember…
Promotions from well-known brands will happen from their verified social media channels. On Facebook, this means the page name will have a blue tick by its name.
On Facebook, you can check when a page was created using the Page Transparency information on each page. Newly created pages offering expensive prizes are likely to be scams.
Never enroll for programs, third party offers or subscriptions to get a prize. Especially when they're asking for your personal information.