Messages circulating social media, especially Facebook and SnapChat, warn recipients about a text message claiming "someone complimented you" followed by a link. The messages claim that the links lead to a "sex trafficking site".
Some versions also claim the site can steal all of your information including your location, while others claim that it can put a tracker on your phone and that girls have "gone missing".
Two examples can be seen below –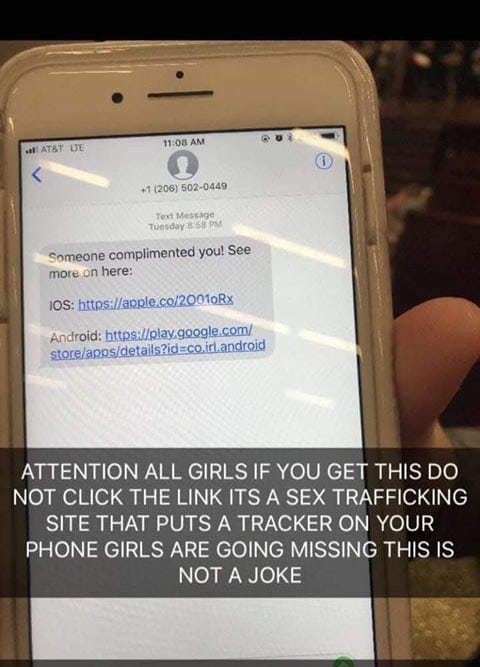 ATTENTION ALL GIRLS IF YOU GET THIS DO NOT CLICK THE LINK IT'S A SEX TRAFFICKING SITE THAT PUTS A TRACKER ON YOUR PHONE GIRLS ARE GOING MISSING THIS IS NOT A JOKE
LADIES, if you have received a text recently saying "a friend has complimented you in IRL" With a link attached below it, DO NOT open the link!
It is linked to sex trafficking. All your information, (including location) can be taken simply by clicking on the link.
SO DON'T DO IT!
The claim that text messages that say you've "been complimented" are related to a sex trafficking scam is entirely false.
While the text messages themselves are real, there is no evidence whatsoever that they lead to anything involving sex trafficking. When we clicked the links provided in these text messages, we were taken to either the Apple iTunes or Google Play web stores for a mobile app called "IRL – Let's Hang". This app markets itself as a social networking app that allows users to arrange real world activities based on mutual interests. IRL is an Internet acronym meaning "In Real Life".
Continued below...
SPONSORED AD
It's this IRL app that sends out these text messages to recipients, but only when a friend of the recipient installs the app and either invites them or "nominates" (i.e. compliments) them. If a person installs the app, it requests permission to access their contact list. This allows the app to send SMS messages to the person's contacts that don't use the app.
While the app developers of IRL insist that their app will only send text messages to a non-user if a IRL user sends a friend request, invites them or nominates them, many have complained that the app is spamming them. The developers claim that replying to a message with 'STOP' prevents the app from sending further messages.
Continued below...
SPONSORED AD
Despite accusations of being spammy, there is absolutely no evidence that IRL is connected in any way to sex trafficking. The app has been downloaded thousands of times and has been available through the official Apple iTunes and Google Play app stores since February 2018, where apps are regularly vetted to ensure safety. Additional claims that girls have "gone missing" in relation to the app is also entirely unfounded.
As such, we don't recommend spreading such baseless and alarmist rumors.