For World Backup Day, the SanDisk Extreme Pro 1TB is $100 OFF the retail price. Click here to take advantage or read on.
There's no way of getting around it. You need to back-up your data. Ransomware, theft, breakdowns. All reasons why you could lose access to your files. And unless you have a backup, there's a good chance those files are gone forever.
Backing up isn't a fun process, we get it. But it's worth it given the risk of not doing it. Imagine losing everything stored on your computer. There's probably a lot of memories like photos or important files that you really don't want to disappear for all of time.
Backing up means creating a second copy (or more) of all those files you don't want to lose. Photos, videos, text documents, spreadsheets, work projects, MP3 files and any other thing else. It also means storing that second copy in a different place to your original files. There's no point keeping them all on the same drive, after all, since if that drive gets compromised somehow, it'll affect both your originals and your backups.
To backup your files, you can use cloud storage, a portable (or external) hard disk drive or an SSD (solid state drive) device. All are great ways to backup files. And remember… backing up doesn't just mean moving files from one location to another… it means creating a copy of your files and moving those copies to another location!
Backing up with Portable Hard Disk Drives
Using a portable USB hard drive is great if your files are stored on a desktop PC or laptop, since these drives usually just plug into a USB port on your device. (You can also get drives that also plug into the power socket too, though these are generally referred to as external hard drives, and they work in very much the same way as portable hard drives.)
Pros: Portable disk drives are generally inexpensive (when compared to SSDs) and easy to use. You simply plug them in to your computer through USB and away you go. Many portable drives come with their own software which you can install which makes backing up important files even easier. They also have big capacities, with the larger drives capable of storing many terabytes of data.
Cons: While they're cheaper, portable drives contain moving parts and can be more fragile when compared to SSDs. And while they're pretty speedy, they're also not quite as fast as SSDs.
We recommend… The Western Digital My Passport 4TB disk drive.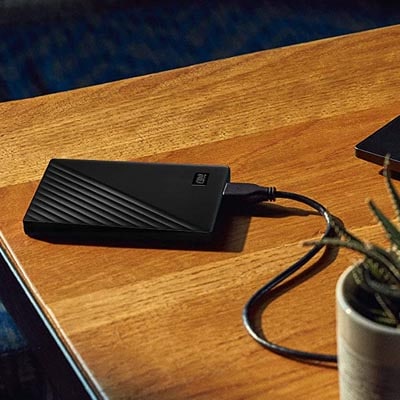 The drive just plugs straight into your computer and you're good to go. Just copy and paste (or drag and drop) files manually to the drive, or you can use the included WDBackup software (just double click the application already stored on the drive to install it) to create your backup. The WDBackup software also allows you to automatically keep your backup synced, which it does in the background. You just choose what folders your personal files are stored in and it does it all automatically.
The hard drive also comes with a security app which lets you setup a password to keep the backup secure. The 4TB version is around $120 (~£100) but there are cheaper 1TB or 2TB versions available too. The My Passport is available on Amazon. Just click the button below.
Backing up with Solid State Drives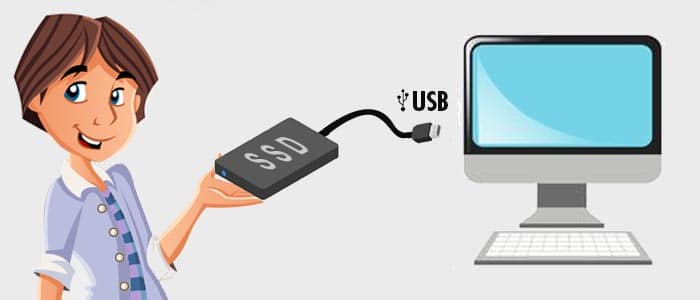 The world of storage is slowly moving towards solid state drives. Like portable hard disk drives, these simply plug into a PC or laptop using an available USB port, which means they're great for those who have their important files on those types of devices. However, unlike portable hard disk drives, there are no moving parts inside.
Pros: Because there are no moving parts, SSD devices are more robust and durable and will thus likely have a longer lifespan. And they're easy to use, just like portable hard disk drives, you plug them into the USB port and away you go. They're also faster than portable hard disk drives.
Cons: SSD devices are usually more expensive than portable hard drives, and the larger capacity drives usually cost a few hundred dollars (but you can pick up 1TB options for a reasonable cost.)
We recommend… The SanDisk Extreme Portable SSD 1TB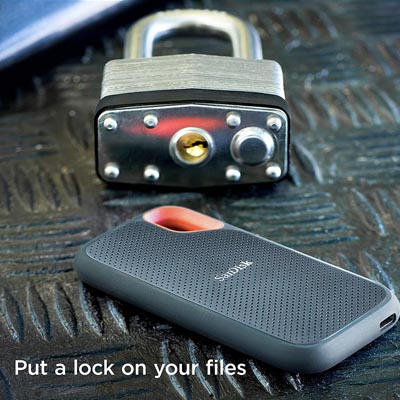 One of the most popular SSD devices on the market comes from SanDisk, and that's likely down to its durability. SSDs are pretty robust anyway, but the SanDisk Extreme is also water resistant to 2 metres and comes with a carabiner loop so it can easily be attached to belts, backpacks etc. to prevent dropping or loss. It's great for people who want to keep their important files backed up and always close to hand. Again, you just plug in to your computer or laptop and you're good to go. There's no automated backup software here, so you'll need to choose what files and folders you want to backup and copy them over yourself.
It's an extremely fast backup device that also comes in (more expensive) 2TB and 4TB models. The 1TB model prices around $250 (but Amazon is currently running a $100 discount for World Backup Day right now.)
Backing up with Cloud Storage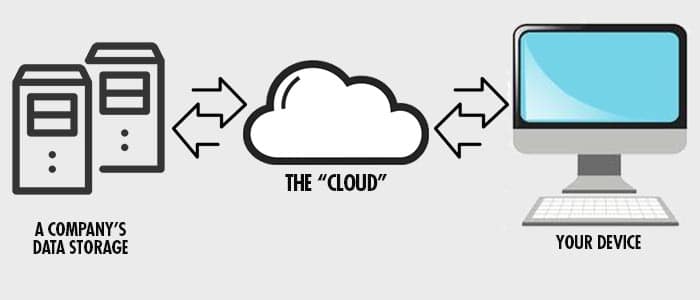 Cloud storage is the term given to uploading your files to an online service which stores your files for you. There are many different options available, and many services offer a limited free version of their service. And for premium services you'll usually pay a monthly or yearly fee.
Pros: If you have a good Internet connection, uploading files to the cloud storage can be just as quick as copying them to a disk drive. You can also access your files from any computer with an Internet connection (usually just by logging in!) Cloud storage services usually have a sync option, meaning you can automatically back-up your files in real time (as you go) and access them across different computers straight away.
Cons: Cloud storage is very dependent on having an Internet connection and how fast that connection is. You won't be able to backup files or retrieve backed up files without the Internet, and backing up can be a slow, laborious process if your Internet connection is slow. You will also have to rely on a third party company to keep your files safe and secure.
We recommend… pCloud or OneDrive
pCloud has proven immensely popular over the last few years and is now among the leading cloud storage providers. It has an easy to use interface, downloadable software and the ability to play media files directly from the cloud within your web browser. With the software you can choose to automatically sync certain folders so it backs up your data in real time in the background.
It's also pretty cheap. The 500GB plan is $3.99 per month ($47.88/yr) and the 2TB plan is $7.99 per month (£95.88/yr). There's also a lifetime option which is valid for 99 years. That's currently $175 for the 500GB option or $350 for the 2TB option. You can sign up here.
OneDrive is the other option, and it's Microsoft's established cloud storage option that's good for anyone who uses Windows or Microsoft Office software frequently. You'll probably already notice the OneDrive link in your quick links bar on the left hand side of Windows Explorer. It's well integrated with Windows and Office and allows you to sync folders automatically.
If you're a Windows user you'll already have access to a free limited version (5GB) of OneDrive, but if you need more space, you can pay $1.99 a month for 100GB, or $69.99 a month for 1TB (which also comes included with some Microsoft Office 365 apps.) Sign up here.