A post claimed that in order to avoid going to "Facebook jail" a user can go to their settings and block the 'Community Standards' Facebook page.

FALSE
An example of the claim is below.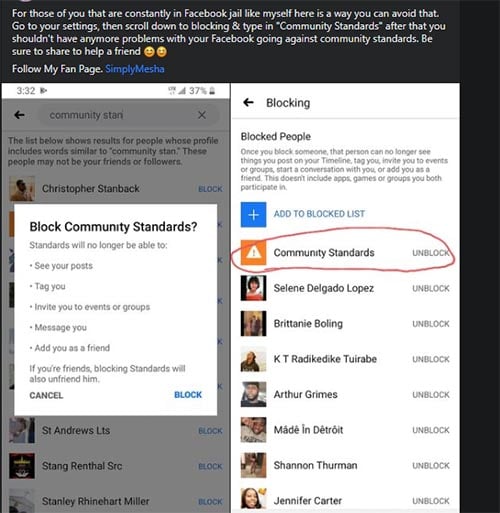 For those of you that are constantly in Facebook jail like myself here is a way you can avoid that. Go to your settings, then scroll down to blocking & type in "Community Standards" after that you shouldn't have anymore problems with your Facebook going against community standards. Be sure to share to help a friend
It's fake, and just another post in a long line of false messages that claim you can just block certain profiles or pages to avoid having restrictions placed on your account (i.e. Facebook jail) in response to breaking Facebook's terms of service or community standards.
Another similar claim has previously circulated that claimed you could avoid having your posts fact checked by following the same instructions but typing in "fact checker" instead.
The notion that you can avoid the consequences of breaking Facebook's terms of service by blocking certain pages or profiles doesn't make any sense. It doesn't address the pertinent question of why Facebook would design their platform to allow someone to effectively hide from them and thus be able to break their rules with impunity.
Sponsored Content. Continued below...
Facebook and those that they employ to govern their site rules cannot simply be blocked by blocking a person or a page. Facebook staff and contractors utilise a variety of backend tools to administer the Facebook platform, and its unlikely any of those tools can be made redundant simply by blocking a page.
What's more, there is no Community Standards page or profile that is operated by Facebook for a person to block. The profile that appears on the screenshots that often accompany this rumor show a profile with an imitation character with the letter I. As such, users who type in "community standards" in their blocking settings won't see the same search results as purported.
To reiterate something we've states a few times already, if you want to avoid restrictions on your Facebook account, don't break their terms of service. You can't hide from Facebook on their own platform, and there is really no reason why Facebook would let you.