Cyber crooks are attempting to trick Instagram users into handing over their login information with a series of phishing scams claiming the user has committed a copyright infringement violation.
Instagram is all about photos. And while most users usually upload their own photos to the site, sometime a user may upload photos belonging to other people, or their photos may contain trademarked items.
Because of this, scammers will know that Instagram users may pay particular attention to direct messages or emails claiming they've committed a copyright infringement which may result in them losing their Instagram account. Here are some examples below –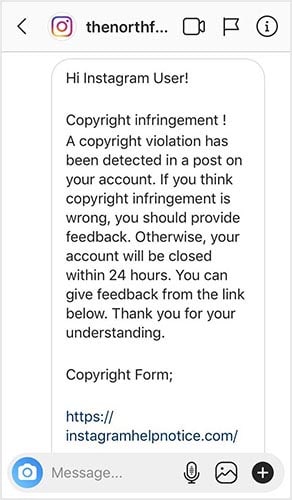 Copyright infringement! A copyright violation has been detected in a post on your account. If you think copyright infringement is wrong, you should provide feedback. Otherwise, your account will be closed within 24 hours. You can give feedback from the link below. Thank you for your understanding.
Copyright Form;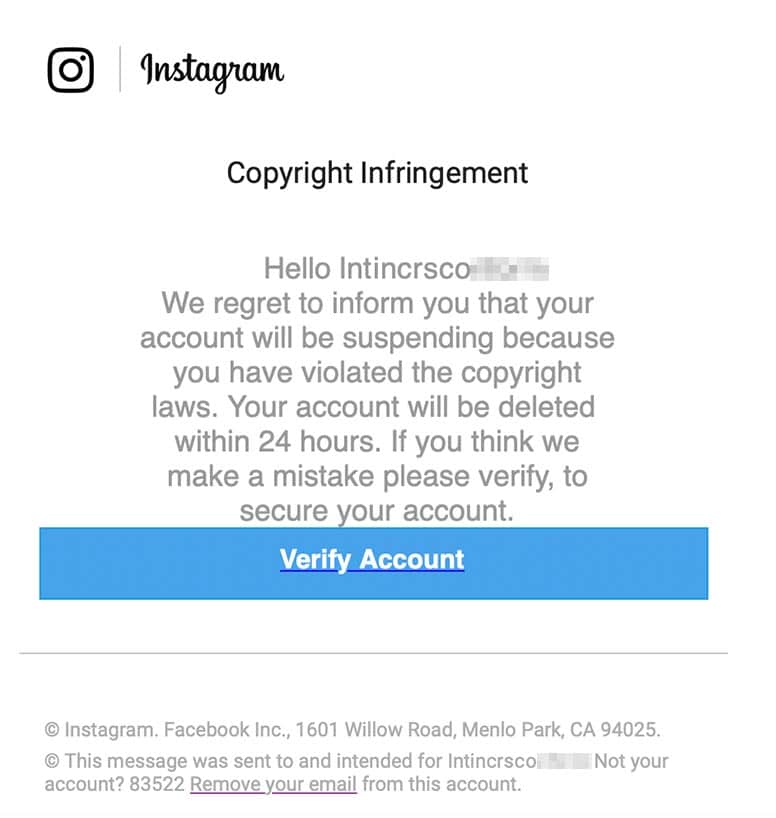 Hello
We regret to inform you that your account will be suspended because you have violated the copyright laws. Your account will be deleted within 24 hours. If you think we make a mistake please verify, to secure your account.
The above are both phishing scams designed to trick Instagram users into clicking a link to a spoof website designed to look like the Instagram website which then asks for – and consequently steals – a user's username and password. That's a classic phishing scam.
Sponsored Content. Continued below...
There is no copyright violation, but the crooks are betting that the email or message they send will alarm users enough to have them blindly clicking links and entering their login details. And that's how phishing scams often work; by panicking recipients into compromising their own online security.
Many of these scams also ask for other information like your email address and password, which again will be stolen.
Watch out for these phishing scams and follow these tips –
– Instagram doesn't send direct messages to its users.
– Watch out for spelling and grammar mistakes.
– Watch out for messages that appear to pressure you into clicking a link.
– Avoid clicking links in direct messages, texts or emails.
– If you do click a link, check the URL address at the top to see if you're on the correct domain (in this case, Instagram.com)
– If something seems suspicious or you're not sure, don't feel pressured or alarmed into clicking or giving away any information. Ask someone first.
For more information on phishing scams, read our post here.