Online rumours claim the movie I Am Legend was not only set in 2021, but claims that people were turned into zombies because of a failed or wrong vaccine.

FALSE
Examples of the claims on social media are below.
I don't want to alarm anybody.. but y'all remember that I Am Legend Movie? Yeah the one with Will Smith? It was set in 2021.. and the zombie outbreak was due to a failed vaccine.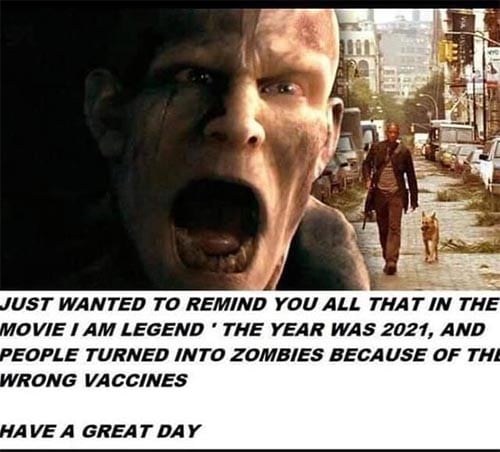 Just wanted to remind you all that in the movie 'I am Legend' the year is 2021, and people turned into zombies because of the wrong vaccines. Have a great day
There is no shortage of claims that particular movies have turned into worrying prognosticators about our collective future. But thankfully they're often just as spurious as they are alarming.
This claim that the movie 'I Am Legend' inadvertently "predicted" that in 2021 we'd all turn into zombies thanks to a failed vaccine is false and many of the core claims about the I Am Legend movie are simply untrue.
Sponsored Content. Continued below...
Firstly, I Am Legend wasn't set in 2021, and neither was the book of the same name which inspired the movie. The movie was largely set in 2012 with the initial outbreak occurring in 2009. In the book which was written in 1954 by Richard Matheson the story was set in 1976.
Secondly, in the book those infected turn into vampires, not zombies, and the movie adaptation retains those vampiric tendencies (such as an attraction to blood) though perhaps amalgamates those attributes with ones more commonly found in traditional zombies films.
And most importantly, neither the book or the movie purport that the infections occur as a result of a failed or incorrect vaccine. In the book the infections were spread by a mysterious pandemic which in turn was likely caused by dust storms in the aftermath of a nuclear war. And in the movie the infections were caused by a purported cure for cancer using a genetically reengineered measles virus.
We rank these claims as false.