Rumours are spreading across social media that warn of a "new deadly spider" spreading across the USA that, according to the warning, has killed five people this week.
The warning does not provide any name for the spider, but includes several photos. You can see an example of the warning as it appeared on Facebook below.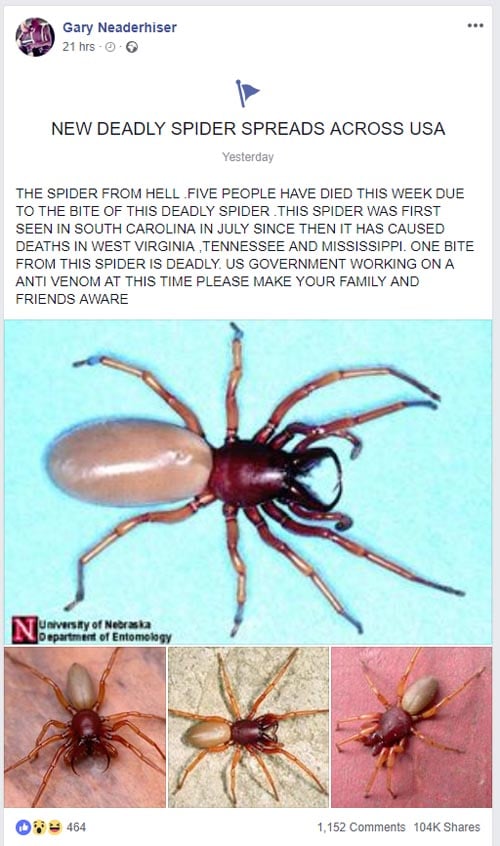 THE SPIDER FROM HELL .FIVE PEOPLE HAVE DIED THIS WEEK DUE TO THE BITE OF THIS DEADLY SPIDER .THIS SPIDER WAS FIRST SEEN IN SOUTH CAROLINA IN JULY SINCE THEN IT HAS CAUSED DEATHS IN WEST VIRGINIA ,TENNESSEE AND MISSISSIPPI. ONE BITE FROM THIS SPIDER IS DEADLY. US GOVERNMENT WORKING ON A ANTI VENOM AT THIS TIME PLEASE MAKE YOUR FAMILY AND FRIENDS AWARE
The warning is fake. We've had to deal with many arachnid-themed scare warnings over the years, including the infamous "Olive Garden toilet" spider that according to forwarded messages managed to bite its victims while they frequented the restroom. This latest warning bears some similarities to that hoax, and it's equally as false.
Firstly, the spider in the images isn't a "new deadly spider". It's a well-known spider called the Woodlouse Hunter Spider. And if you do manage to come across it, you needn't run away screaming (unless you suffer from arachnophobia) since the Woodlouse Hunter Spider is harmless to humans. There have been no documented fatalities or serious injuries from the bite of such a spider. It's profile on the immensely helpful SpiderID.com is here.
Continued below...
SPONSORED AD
As for the news that five people died in a single week due to spider bites, that is simply nonsense. Had it been true, it would certainly make the news headlines, especially considering the average number of deaths in the USA because of spider bites per year stands at – as per VenomousSpiders.net – just over six.
No Internet searches related to five deaths "this week" due to spider bites yield any results, neither from local nor national media outlets.
This is just the latest incarnation of the "new deadly spider" range of hoaxes, and like those that came before it, it's just alarmist scarelore. Please don't circulate such nonsense.
Remember, you can keep on top of these nonsense online hoaxes by following us on Facebook and Twitter.