A photo spreading online claims to show the US Army football team taking a knee in protest during the recent controversial protests surrounding racial oppression in the United States.
During 2017 and 2018, many have criticised both American football and baseball players for kneeling during the playing of the US National Anthem, claiming it is disrespectful to both the United States and their armed services. Since this photo claims to show members of the United States military engaging in that same "disrespectful" kneeling protest, the photo would seem to fly in the face of this argument.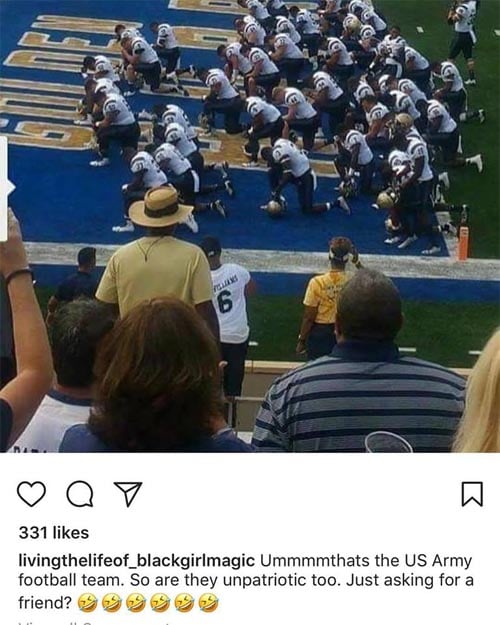 Ummmmm thats the US Army football team. So are they unpatriotic too. Just asking for a friend?
However the photo doesn't show the US army football team. A simple reverse image search reveals that the image was taken during a recent game between the Navy Midshipman (a football team representing the United States Naval Academy) and the University of Tulsa on September 30th 2018.
What's more, the kneeling was not taken during the playing of the National Anthem. The photo was taken when the Navy Midshipman were kneeling in prayer, not during the National Anthem.
Continued below...
SPONSORED AD
A full video of the game that begins when the players enter the arena reveals they were not present during the National Anthem which presumably was played before coverage of the game (and the video) started. This is not unusual for college level football.
As such, while many protests (at the time of writing) are occurring across the NFL, at the time of writing the US Army football team has not kneeled in protest during the playing of the National Anthem.